Video Details
GEOENGINEERING BAN: Climate-related Geoengineering and Biodiversity - Convention for Biological Diversity 2012
Ensure, in line and consistent with decision IX/16 C, on ocean fertilization and biodiversity and climate change, in the absence of science based, global, transparent and effective control and regulatory mechanisms for geo-engineering, and in accordance with the precautionary approach and Article 14 of the Convention, that no climate-related geo-engineering activities** that may affect biodiversity take place, until there is an adequate scientific basis on which to justify such activities and appropriate consideration of the associated risks for the environment and biodiversity and associated social, economic and cultural impacts, with the exception of small scale scientific research studies that would be conducted in a controlled setting in accordance with Article 3 of the Convention, and only if they are justified by the need to gather specific scientific data and are subject to a thorough prior assessment of the potential impacts on the environment;
https://www.cbd.int/climate/geoengineering/
REFERENCES
Operation Popeye, Motorpool, Intermediary, Compatriot: Weather Warfare Over Vietnam - MARCH 20, 1967 - JULY 5, 1972
https://weathermodificationhistory.com/operation-popeye-motorpool-intermediary-compatriot-weather-warfare-vietnam/
CIA Project Nile Blue - Rain Embargo on Cuban Sugar Crops - 1969-1970
"But the seeding near Cuba was to cause less rain, not more. It was supposed to squeeze rain out of clouds before they reached the island. You might say we tried to embargo rainclouds."
https://weathermodificationhistory.com/cia-project-nile-blue-rain-embargo-cuban-sugar-crops/
Weather Modification Reporting Act of 1972 - DECEMBER 18, 1971
Pubic Law 92–205, §1, Dec. 18, 1971, 85 Stat. 735 [H. R. 6893]
https://weathermodificationhistory.com/weather-modification-reporting-act-1972/
National Weather Modification Policy Act of 1976 - OCTOBER 13, 1976
https://weathermodificationhistory.com/national-weather-modification-policy-act-of-1976/
The Environmental Modification Convention (ENMOD) Weather Warfare Ban - MAY 18, 1977 - JANUARY 17, 1980
https://weathermodificationhistory.com/environmental-modification-convention-enmod-weather-warfare-ban/
Weather Modification Research and Technology Transfer Authorization Act of 2005 - JUNE 20, 2005
https://weathermodificationhistory.com/weather-modification-research-technology-transfer-authorization-act-of-2005/
Department of Homeland Security Hurricane Modification Workshop - FEBRUARY 6-7, 2008
https://weathermodificationhistory.com/department-homeland-security-hurricane-modification-workshop/
Weather Mitigation Research and Development Policy Authorization Act of 2009 - APRIL 16, 2009
https://weathermodificationhistory.com/weather-mitigation-research-development-policy-authorization-act-2009/
US Senate Committee on Commerce, Science, and Transportation hearing "Weathering the Storm: The Need for a National Hurricane Initiative" - July 28, 2009
https://www.gpo.gov/fdsys/pkg/CHRG-111shrg54496/pdf/CHRG-111shrg54496.pdf
US/UK Joint Inquiry on Geoengineering: House Hearings - NOVEMBER 2009 - MARCH 2010
https://weathermodificationhistory.com/us-uk-joint-inquiry-on-geoengineering-house-hearings/
November 5, 2009 - Geoengineering: Assessing the Implications of Large-Scale Climate Intervention. US House of Representatives, Subcommittee on Energy and Environment. Witness Testimony: Dr. Ken Caldeira, Mr. John Shepherd, Mr. Lee Lane, Dr. James Fleming, Dr. Alan Robock.
January 13, 2010 - The Regulation of Geoengineering. Geoengineering House of Commons Science and Technology Committee, Thatcher Room. Witness Testimony: Dr Jason J Blackstock, Centre for International Governance Innovation, Canada, Dr David Keith, Director, ISEEE Energy and Environmental Systems Group, and John Virgoe, expert in geoengineering governance.
February 4, 2010 - Geoengineering II: The Scientific Basis and Engineering Challenges. US House of Representatives, Subcommittee on Energy and Environment. Witness Testimony: Dr. Philip Rasch, Dr. Robert Jackson, Dr. Klaus Lackner, Dr. David Keith.
March 18, 2010 - Geoengineering III: Domestic and International Research Governance. US House of Representatives, Subcommittee on Energy and Environment. Witness Testimony: Mr. MP Phil Willis, Dr. Frank Rusco, Dr. Scott Barrett, Dr. Jane Long, and Dr. Granger Morgan.
Jim Lee vs. Geoengineering: Public Refuses SRM Proposals - December 8, 2012
As I followed this thread, I learned that Mr. Jim Lee is clearly opposed to geoengineering. I could find no comments by him on biochar, but he endorsed work by E.T.C. - which group has been opposed to biochar (relying only on the "research" by one other group. I am sorry to report that Mr. Lee is apt to be quite active and influential in opposing all parts of geoengineering. He has a big site.
https://climateviewer.com/2014/01/16/public-refuses-geoengineering-srm-proposals-scientists-actually-listen/
My posts on Ken Caldeira's Google Geoengineering Group:
Congressional Hearing on Geoengineering: Innovation, Research, and Technology - NOVEMBER 8, 2017
https://weathermodificationhistory.com/congressional-hearing-on-geoengineering-innovation-research-technology/
Weather Modification Laws in the United States of America
https://climateviewer.com/2016/05/14/weather-modification-laws-in-the-united-states-of-america/
"Accidental Geoengineering" with Ship Tracks and Contrails
https://climateviewer.com/2018/04/01/accidental-geoengineering-with-ship-tracks-contrails/
https://climatex.mit.edu/accidental-geoengineering-ship-tracks-and-contrails
WHO IS FUNDING GEOENGINEERING?
https://climateviewer.com/geoengineering/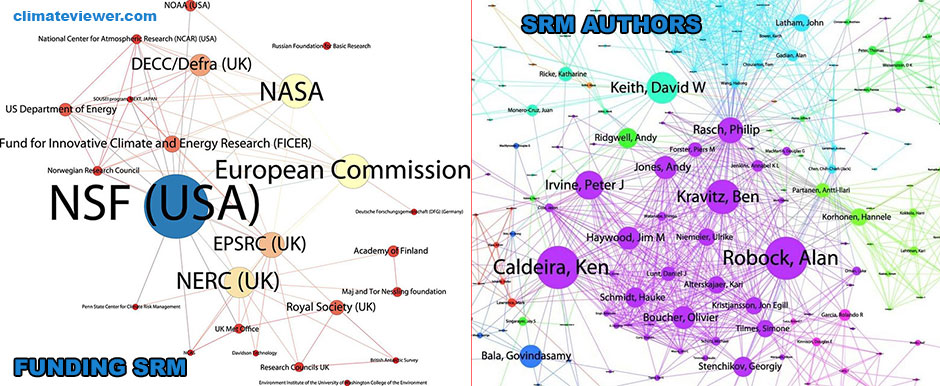 GEOENGINEERING EXPERIMENT THIS YEAR: Stratospheric Controlled Perturbation Experiment (SCoPEx)
Does SCoPEx violate the Convention on Biological Diversity? SCoPEx does not violate the Convention on Biological Diversity (CBD).

The Conference of the Parties to the CBD adopted a decision that includes a section on climate related geoengineering. It states, "that no climate-related geo-engineering activities that may affect biodiversity take place, until there is an adequate scientific basis on which to justify such activities and appropriate consideration of the associated risks for the environment and biodiversity and associated social, economic and cultural impacts, with the exception of small scale scientific research studies that would be conducted in a controlled setting in accordance with Article 3 of the Convention, and only if they are justified by the need to gather specific scientific data and are subject to a thorough prior assessment of the potential impacts on the environment."

SCoPEx would not affect biodiversity because it would pose no significant hazard to people or the environment, as noted above.
https://projects.iq.harvard.edu/keutschgroup/scopex
The Environmental Modification Accountability Act of 2018 #ENMODAA
An Act To End Atmospheric Experimentation Without Notification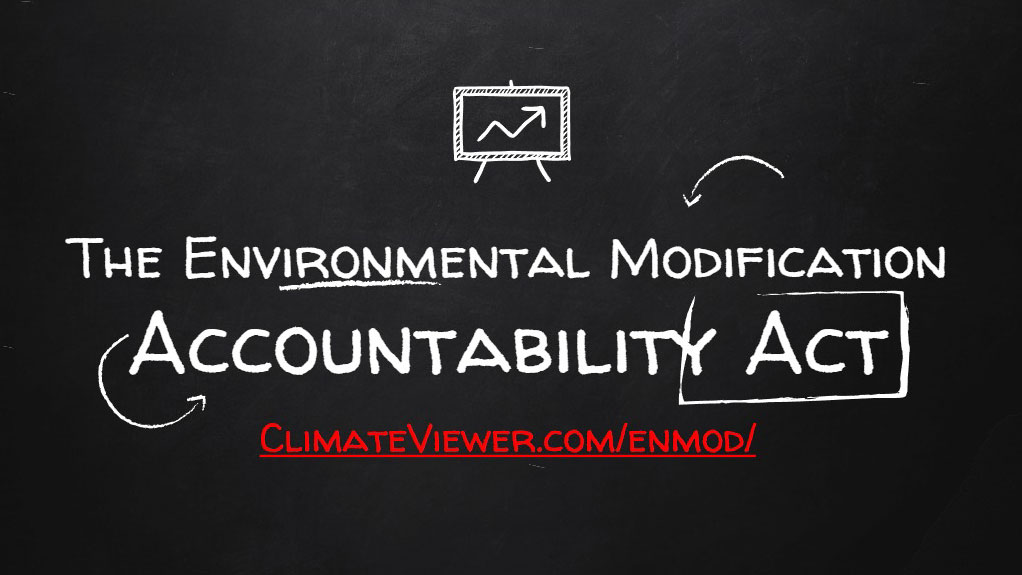 Broken Links
If any of the links above do not work, copy the URL and paste it into the form below to check the Wayback Machine for an archived version of that webpage.